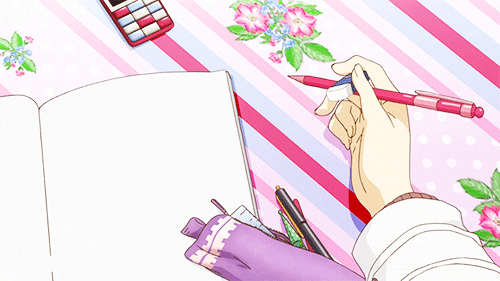 Anyone who does anything that requires some sort of creativity has met the devil called artist block. You might feel inspired but your hands and brain is just not working to get you the result you want.
In my case, I always end up with tons of crushed paper and a blank canvas. The devil visits me pretty often and likes to lurk around forever. I usually have a hard time getting out of an artist block but recently I've finally come up with ways to deal with the devil myself.
These are just some ways that worked for me and hopefully it'll be helpful for you too!
Reference pictures
Finding reference pictures has been very helpful in getting me out of an artist block. I mainly lurk around Instagram to get picture reference from either people I follow, celebrities, photographers or even anime accounts.
The reference pictures are from @ponymakeup on Instagram. She is a Korean celebrity make up artist. Her Instagram is filled with awesome pictures to reference from.
Other accounts to check out:
Getting new art supplies
Nothing excites me more than getting new art supplies and then actually playing around with them to see what I can do with it. Yes, art supplies can be pretty pricey but you can always reward yourself with something small, even a new pen colour or a new tube of paint shade that you can play around with. It doesn't have to be a whole set of supply, go to your local art supply store and see what you can find.
Trying different mediums
Step out of your comfort zone and you'll see a whole new world beyond. We were introduced to basic mediums like pencil, crayons and colour pencil when we were young. So now, introduce yourself other new mediums that you have yet to try. Acrylic, water colour, chalk, spray paint, ink, clay or even digital art. The possibility is endless. The same picture painted with different medium will end up with very different end results so don't be afraid to explore other medium.
Marker, Pen, Pencil, Water colour
Trying other Art styles
If you do not want to spend money on new Art supply to try out, you can always just try out art styles instead. Look up on Artists that has a different art style from yourself, try out and learn their art style. If you are always drawing anime, why not try drawing realism. Everyone has their own way of interpreting what they see onto their canvas, the pencil strokes, shading style, etc.
If you are always doing something one way you will never learn.
Artist inspiration
My instagram is filled with artist accounts. Whenever I feel uninspired, I'll just scroll through my instagram home page or go to the explore page to find more artist accounts. Look at artists that has different styles and see what you can learn. Do they have better body proportion? Or maybe the colour scheme they used is oddly satisfying. These are a few things you can note down and practice on your own work.
Artist accounts:
I should stop before the list gets too long…
Self portraits
Look for a selfie in your gallery. Believe it or not, but it is a lot easier to draw a self-portrait because you see your own face very often and your brain is already familiar with the lines of your face. Build your confidence back up by drawing self portraits and then before you know it you'll be drawing a lot more other things.
Doodle
Last but not least! Doodle! I can't emphasize how important this is. Just keep drawing no matter how small or ugly it is. If you are a student, draw on your notes as you study, make comics to help you understand your notes. Take breaks in between your study and just doodle away.
---
Alright! I know they don't seem too helpful but they are what worked for me and hopefully they can help you get out of your artist block too! Don't stress too much when you're stuck and just can't seem to put anything onto your canvas. Artist block will pass, they don't last forever.  Don't be afraid to take a break and get your mind off your artist block. Sometimes all you need is a break to get back on track!
I'm still learning my ways and there's still so much for me to learn and improve. I hope my tips helps you in maybe just a slightest bit. If you have your own tips that can help me get out of my future artist blocks, do share it with me! I'm sure I'll need it.